O'Neill and Wong win Gold Gloves
St. Louis Cardinals left fielder Tyler O'Neill and second baseman Kolten Wong were named National League recipients of the 2020 Gold Glove Award for defensive excellence.  It is the 30th time the Cardinals have had multiple Gold Glove winners in the same season and first since 2015. Paul Goldschmidt came in second at first base.
Details here:
The first-time Gold Glove Team Award for the National League went to the Chicago Cubs, which narrowly edged the Cardinals.
For members of The Cardinal Nation, we dug deeper into the metrics which decided the awards and looked at how all position players stacked up.
Cardinals shut out of other major awards
The 2020 Silver Slugger Awards, given to the top offensive performers by position in the National League, did not include any Cardinals.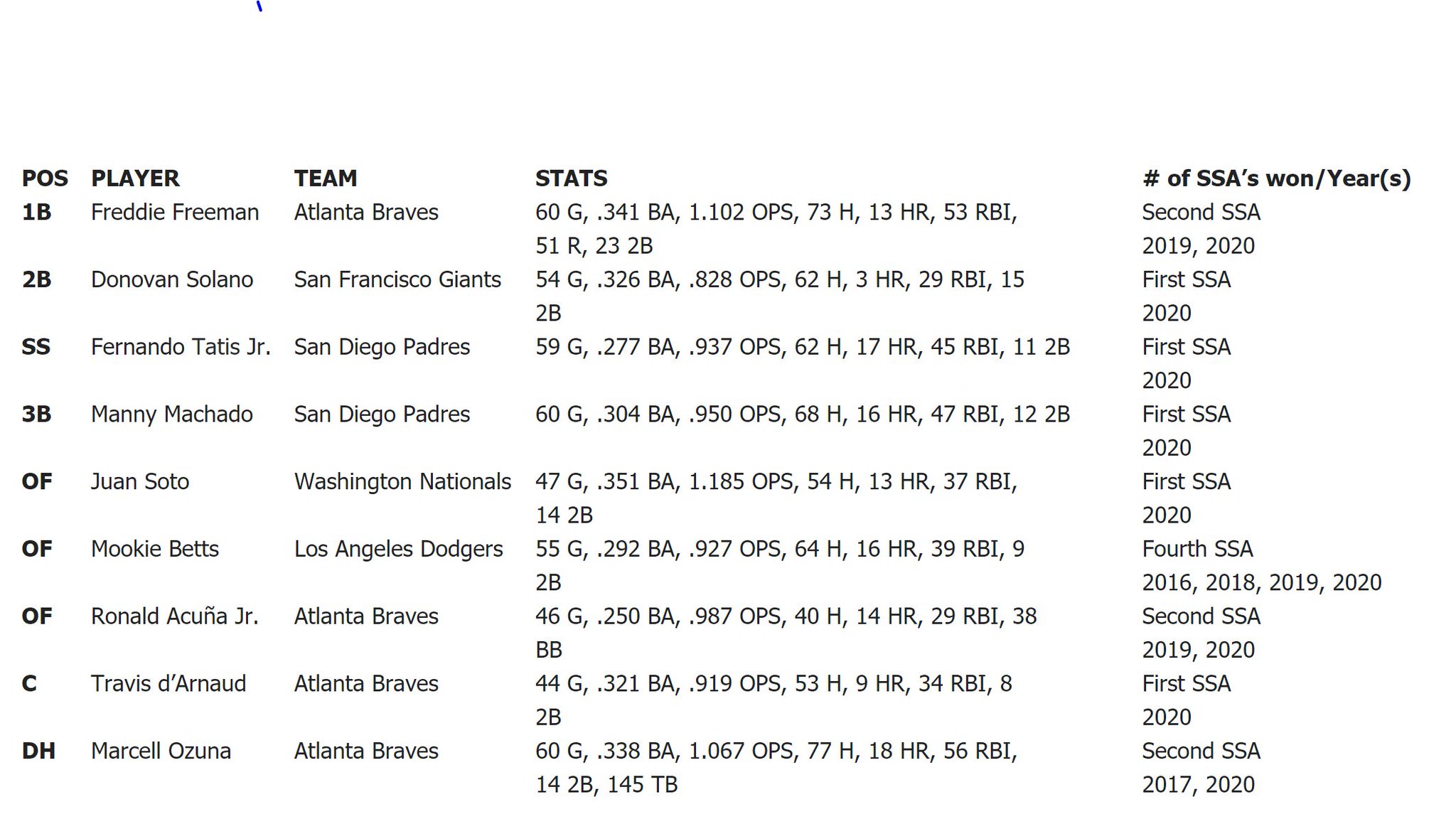 The top three vote-getters for 2020 Manager of the Year, Rookie of the Year, Cy Young, and Most Valuable Player awards were announced last Monday. The Cardinals have no "finalists" for any of these National League-wide honors, for which the winners will be disclosed this week.
Trade and Acquisition Rumors
Adam Wainwright tweeted about his intention to play in 2021, as expected. Because the right-hander had a successful network television analyst debut in the post-season, there was some speculation FOX might try to hire him away.
My son Caleb just pointed at the tv and said, "Daddy ball." Well, that settles it. I guess I should play another year….

— Adam Wainwright (@UncleCharlie50) November 7, 2020
Transactions
After a prior week of numerous transactions, the Cardinals have been quiet in November to date. As detailed below, the next major decision will be which prospects to protect from the December Rule 5 Draft.
In addition, minor league free agency opened for some and ended for others before it officially began, as we have news for members on 15 current and former St. Louis Cardinals farmhands. Four were once on the 40-man roster and three pitched in the majors in 2020.
Assessing 2020 Minor League Free Agency for the St. Louis Cardinals
To view the entire Cardinals system, by position and team, as well as all free agents and every transaction across the organization, check out the Roster Matrix, free here at the Cardinal Nation.
St. Louis Cardinals Organization Roster Matrix – 2020-2021 Offseason
Injury Report
There is no new injury news to report.
Looking Ahead
Listed below are dates for key offseason events:
11/9-11/12 Winners of the Manager of the Year, Rookie of the Year, Cy Young, and Most Valuable Player awards will be announced on MLB Network at 5 pm CT on consecutive days. The Cardinals have no top three finishers.
11/11 Deadline for free agents to accept or decline a qualifying offer is by 4 pm CT. No Cardinals have been made a qualifying offer and only six players did across all of MLB.
11/16 Baseball Hall of Fame ballot will be released.
11/20 Deadline for teams to add eligible minor leaguers to the 40-man roster for Rule 5 draft protection.
12/2 Deadline for teams to offer pre-arbitration and arbitration eligible players new contracts for the 2021 season.
12/6-12/10 The annual Winter Meetings were to be held in Dallas, TX. The in-person meetings have been cancelled due to Covid-19 and will instead be held virtually.  This includes the annual Rule 5 draft, which will also be virtual.
1/15/21 Deadline for teams and arbitration eligible players to submit salary figures. The Cardinals have six arbitration eligible players, CF Harrison Bader and RHPs Jack Flaherty, John Brebbia, John Gant, Jordan Hicks, and Alex Reyes.  All but Gant are first time arbitration eligible.  Gant is in his second year of eligibility.
Blast from the Past
Last week's Blast from the Past was the final installment of the five-part series on Cardinals legend Bob Gibson, who passed away last month and would have turned 85 on Monday.  This week's Blast begins another series about another team legend, who was born on the same day as Gibson, but four years earlier, and is still with us.
Dorrel Norman Elvert Herzog was born on November 9, 1931 in New Athens, Illinois, a town about 40 miles east of St. Louis.  Herzog was the second of three boys born to Edgar and Lietta Herzog.  Herzog's father worked at the Mound City Brewery, and his mother at a shoe factory.  Dorrel was also known as "Relly" to his friends and family.  He would acquire another nickname later on as an adult.
Herzog undertook several jobs as a youth to help the family make ends meet.  He worked as a grave digger and delivered newspapers and baked goods and did some work at the brewery where his father worked, as well.
Dorrel would sometimes skip school and take a bus to Sportsman's Park in St. Louis, the home of the Browns and the Cardinals.  His idols were Stan Musial and Enos Slaughter.  Herzog would sneak into the ballpark early and grab batting practice balls that he would take home and reuse at the local sandlots.
Herzog played basketball and baseball at New Athens High School. The lefty pitched, played first base and outfield.  Herzog hit .584 as a junior and helped take his team to the regional playoffs as a senior. He was a second team All-Stater in both his junior and senior years.
Though Herzog drew some interest from local colleges and universities, he did not continue in school following his graduation in 1949.  He signed a contract with the New York Yankees, the same year the Yankees signed another young man named Mickey Mantle.
Herzog began his professional baseball career with the Class D McAlester Rockets in McAlester, Oklahoma.  While there, Herzog acquired the name "Whitey".  The nickname was bestowed upon him by a sportscaster who said he resembled a pitcher on the Yankees, Bob "White Rat" Kuzava, because of his light blond hair.
During his two years in McAlester, Whitey hit .279 and .351.  He moved up to the Class C Joplin Miners and Class B Piedmont League in 1951 where he hit a combined .276.  In 1952 Whitey played for the Quincy Gems of the Three-I League and the Beaumont Exporters of the Texas League before finally reaching the Triple-A Kansas City Blues near the end of the season.
At the end of the 1952 season, Herzog was drafted into the US Army and spent two years in the Corps of Engineers.  He also married his high school sweetheart, Mary Lou Sinn, that same year.
While stationed at Fort Leonard Wood in Missouri, Whitey got his first managerial experience leading the company baseball team. After his 1955 discharge from the Army, Herzog returned to baseball, playing for the Yankees Triple-A team, the Denver Zephyrs.  That season, Whitey hit .289 with 21 home runs and 98 RBI.
Herzog hoped to make his New York debut in 1956, but that April, the Yankees traded him to the Washington Senators in a seven-player deal.
Herzog's major league career began in Washington but didn't end there.  In the next six years, Whitey bounced around between the majors and the minors for three more organizations. More on that is coming next Monday!
---
Exclusively for members of The Cardinal Nation
---
Not yet a member?
Join The Cardinal Nation for the most comprehensive coverage of the St. Louis Cardinals from the majors through the entire minor league system.
Follow Marilyn Green on Twitter @Marilyncolor.
© 2020 The Cardinal Nation, thecardinalnation.com. All rights reserved. This material may not be published, broadcast, rewritten or redistributed.