photo: John Mozeliak via Zoom (Brian Walton/The Cardinal Nation)
MLB Press Release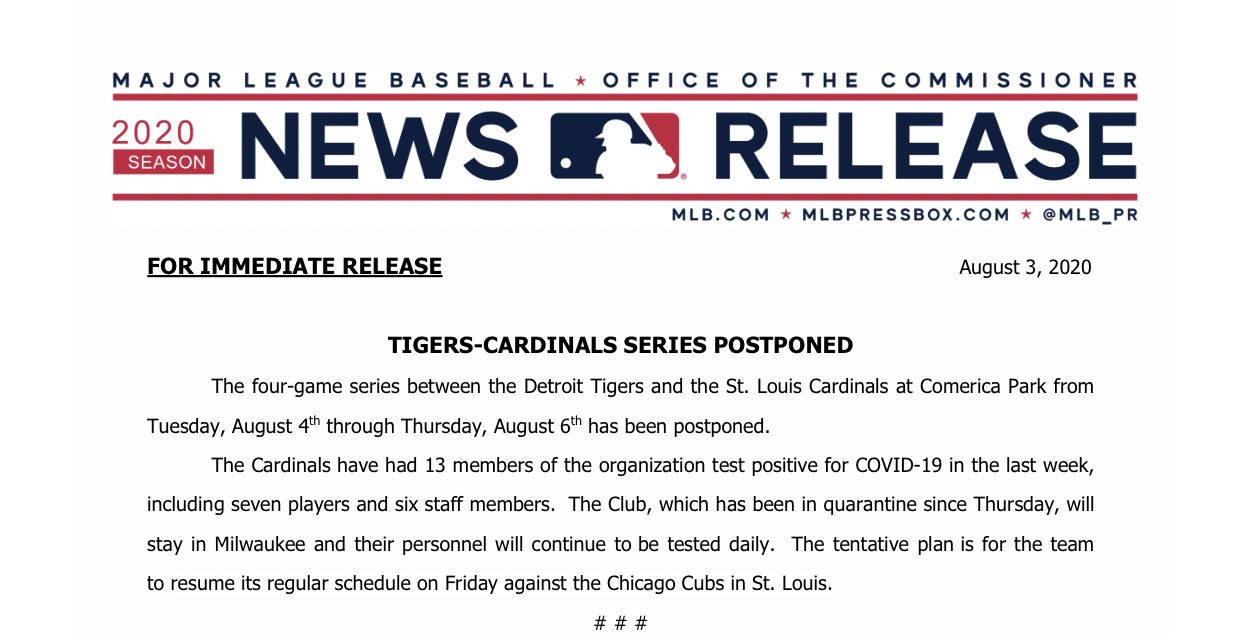 In other news, the August 13 Field of Dreams Game has reportedly been canceled. Whatever the real reason, it has to be considered a major disappointment.
Cardinals-White Sox game at Field of Dreams next Thursday in Dyersville, Iowa cancelled, sources tell The Athletic. Reasoning not believed to be tied to additional positive tests on Cardinals. More a logistical problem.

— Ken Rosenthal (@Ken_Rosenthal) August 3, 2020
Brian Walton's take
The Cardinals' total of games missed has now grown to seven – the same count as the number of players having tested positive.
At this point, there is no verified information about the identities of the players and staff affected or the timing and source of the virus.
Despite that, the anger of those looking for a smoking gun was stoked by MLB Network "insider" Jon Heyman on Monday. Many interpreted Heyman's tweet to be a suggestion of how the outbreak began, though this has not been substantiated.  In fact, others have directly questioned Heyman, such as the following examples.
This report is not very clear. Players going to a 'casino' could be referencing them going to the drive-in outdoor Nelly concert at the Hollywood Casino Amphitheatre in mid July; all the players who went wore masks.

Playing the blame game doesn't benefit anyone. #STLCards https://t.co/l7iOcS8JCp

— STLSportsCentral (@stlsportscntrl) August 3, 2020
Noted epidemiologist weighs in. No prove Casino caused any Covid cases. Timing suggests it may have occurred earlier. But yes, better to stay in hotel. https://t.co/RcdNlwiKPb

— Jon Heyman (@JonHeyman) August 3, 2020
More from Mo
Cardinals President of Baseball Operations John Mozeliak met with the media via Zoom late Monday afternoon. His comments are summarized here. (The actual sequence may be changed to group topics.)
Hope to be cleared to travel by Wednesday morning and work out that afternoon. Have a more robust workout on Thursday and play the Cubs on Friday.
13 individuals have opted not to be named. Five individuals are asymptomatic. Eight have a variety of light symptoms – headaches, coughs, sniffles, low fever – nothing requiring hospitalization. All symptoms came after they tested positive. Would not answer breakdown of players vs. staff and off-field and field personnel. Upon recount, the traveling party was 57 people. Much less than usual because broadcasters are not going on the road trips.
All inconclusives have been verified. Only one new positive in last 24 hours. Feels progress is being made in flattening the curve. Not there yet, which is why they remain in self-isolation.
Very confident it all originated in St. Louis and the timing of testing led it to become known while on the road. No one knows when it began to spread. Could guess how outbreak began, but does not know. Lab turnaround was not an issue. Doing daily saliva tests exclusively now. Only used rapid testing early on.
Will have to wear it for a couple of days until approved to travel. Need two days of negative tests to travel and work out. Will take plane back to St. Louis when allowed.
All positives have left Milwaukee via a rental car service. Car dropped off at hotel, they drive home. The car is then towed and cleaned. If they have to stop on the way, wear mask and gloves and do it quickly.
The positives have to stay out for seven days before being tested. No short cuts. Need two negatives and pass cardio exams as well before being allowed to return.
Will have to think through staff changes. Challenge in bringing up individuals from Springfield is their replacements have to go through intake testing.
Roster will look a little different. We think we can withstand. Don't know how fast players can come back. Noted that all MLB rosters go to 28 on Thursday. Has not heard of changes to that rule.
There have been no issues with testing at Springfield.
May have enough players without adding to Springfield. Have a roster meeting later tonight.
Doing everything they can to play. People tired of sitting in room. Guys would like to find a way to get out of here, but understand protocols.
Have no concerns about player behavior. Asked about casino rumor, "I have no factual reason to believe it is true and I have seen no proof of it. If someone was at a casino, it would be disappointing."
Have had no conversations with Cubs about next weekend series in St. Louis. Hope to show we are medically cleared.
Have had no opting out discussions with players.
On the potential of injuries after being out a week. It is a concern. Will not deny it. Hope players are moving their bodies in their rooms via yoga, exercises, etc. Having two days (of workouts at home) before playing a game helps.
On stopping the season. All other teams playing deserve a right to try to continue. Has no news of rumored Field of Dreams Game change.
The situation grew quicker than he thought. More naïve at the start. Show how quickly it can spread. Fortunately they can test daily. Noted those in schools and offices do not have access to such resources.
---
Related articles
More Cardinals COVID Cases – Saturday-Monday Games Postponed
Two St. Louis Cardinals Test Positive; Friday Game Postponed
---
For more
Check out our COVID-19 Timeline here at The Cardinal Nation, with summaries and links to key virus-related news affecting the St. Louis Cardinals and Major League Baseball back to March.
---
Bonus for members of The Cardinal Nation
---
Now Available! – TCN's New 2020 Prospect Guide
232 pages, 97,000 words, over 60 player capsules, history and much more – in both PDF and spiral-bound book versions. Foreword by Dan McLaughlin. Order your copy today!
Not yet a member?
Join The Cardinal Nation for the most comprehensive coverage of the St. Louis Cardinals from the majors through the entire minor league system.
Brian Walton can be reached via email at brian@thecardinalnation.com or for fastest turnaround, pose your questions on The Cardinal Nation's members-only forum. Follow Brian on Twitter.
© 2020 The Cardinal Nation, thecardinalnation.com. All rights reserved. This material may not be published, broadcast, rewritten or redistributed.