Following an explosive Friday, Saturday was expected to be a quiet day in terms of St. Louis Cardinals COVID-19-related news. The team had disclosed three new positive cases and the weekend series against the Chicago Cubs at Busch Stadium had been postponed. The overall total of those infected grew to nine players and seven staff members.
Cardinals Suffer Three More Positive Tests – Weekend Series Postponed
The Cardinals planned to wait until results of team-wide tests taken on Friday and Saturday were known to address the media on Sunday with details on the plan forward. A new series against the Pittsburgh Pirates is just ahead, starting Monday.
The hope seemed to be that if there were two days of all negative test results back to back, perhaps the team could resume activity. On the other hand, that seemed aggressive given that is what they tried upon leaving Milwaukee – only to have the new positives arise shortly after they returned to St. Louis.
Because the Cardinals traveled together Wednesday and practiced together on both Wednesday and Thursday, it would appear that the entire team and associated personnel were exposed once again. They were all re-quarantined for the weekend.
CDC recommendations for the general public remain constant:
"You should stay home for 14 days after your last contact with a person who has COVID-19. For all of the following scenarios, even if you test negative for COVID-19 or feel healthy, you should stay home (quarantine) since symptoms may appear 2 to 14 days after exposure to the virus."
Major League Baseball, however, believe that because of their daily testing, their employees can follow a shorter period of quarantine than the general public. While I am not an infectious disease expert, I am perplexed what connection there could possibly be between incubation rate and testing frequency.
Simply put, the CDC does not appear to exclude baseball team employees from their directive to quarantine for 14 days.
In the first large-scale outbreak in MLB, the Miami Marlins quarantined for eight days in Philadelphia, and with the benefit of hindsight, it seemed to be enough. No new cases were reported.
For the second outbreak, the Cardinals quarantine ended at five days in Milwaukee. The team had 100% negative cases for two consecutive days before being allowed to travel home by MLB officials.
However, by Thursday evening, the new positive test results indicated the Cardinals' exit from quarantine was premature. Now, the clock must restart – but what will the duration of this new, second quarantine be?
Saturday's news
As mentioned above, no updates were expected on Saturday. However, some expressed optimism on social media solely because there were no media leaks of new positive tests received by the team on Saturday.
However, that relative calm changed late Saturday afternoon. Mark Saxon of The Athletic tweeted the following, which received sharp rebuttals from pitcher Adam Wainwright.
The frustration appears to be rooted both in the manner of information flow and the perceived accuracy of the report.
For the record, that's not a dig at all journalists. I have been blessed to know many a great person in that industry. But, sometimes there is an "I need to be first" vibe that is frustrating. What he said may prove to be true..would be nice to hear it first since it involves us

— Adam Wainwright (@UncleCharlie50) August 8, 2020
Players on the @Cardinals ??? Like the big league baseball team? Because I'm just texting with all our guys, like everyone on the whole team, and NOBODY has heard this.

— Adam Wainwright (@UncleCharlie50) August 8, 2020
Cardinal Jack Flaherty joined in the public scorn.
he about to get the Russ "next question" treatment from now on

— Jack Flaherty (@Jack9Flaherty) August 8, 2020
bruh we haven't been told anything. that's from every player top to bottom

— Jack Flaherty (@Jack9Flaherty) August 8, 2020
After several hours of quiet, ESPN's Jeff Passan shared the following on Saturday evening.
This is accurate: The Pirates' flight to St. Louis on Sunday has been canceled, as has their game Monday against the Cardinals, sources tell ESPN. By tomorrow, the teams will have a better sense as to whether they'll play Tuesday and Wednesday. Cards are up to 11 games missed. https://t.co/yBFY8hAZ8q

— Jeff Passan (@JeffPassan) August 9, 2020
The Monday postponement would be St. Louis' 11th consecutive game that cannot be played on schedule due to the virus. As of yet, there has been no official word from MLB or either team to confirm this. Yet a flight cancellation seems definitive.
Expect official updates to be provided during the day on Sunday – and when it does, The Cardinal Nation will bring the news.
Sunday update no. 1
Cardinals manager Mike Shildt appeared on his weekly Sunday morning show on KMOX Radio. An excerpt follows, with the link to the full segment also included.

(Image courtesy of Derrick Goold of the St. Louis Post-Dispatch)
https://www.radio.com/kmox/listen?t=1596986172&_branch_match_id=591259253915182107
Sunday update no. 2
Cardinals PBO John Mozeliak also has a weekly show on KMOX, which was aired at 11:30 a.m. Sunday. A few details are provided with the link to the full audio following.
He made it clear he is not trying to be secretive with news as if this were trade talks, but there are a lot of moving parts to coordinate.
Mozeilak said he has been "shocked" at how much shaming there has been of people who caught the virus. Also called it "mind-boggling" and "extraordinarily frustrating".
He mentioned the question remains as to when they can convene safely.
PBO John Mozeliak of the #stlcards told @Ackerman1120 on @KMOXSports that there is "a lot of anxiety" among players on what is next, but he hasn't shared more with them that he shared on the radio today. A meeting later today after latest test results will decide the path ahead.

— Brian Walton (@B_Walton) August 9, 2020
https://www.radio.com/kmox/listen?t=1596990690&_branch_match_id=591259253915182107
Sunday update no. 3
MLB released the following statement late Sunday afternoon. Of course, it was leaked about an hour ahead of the formal announcement, not that any of it was a surprise.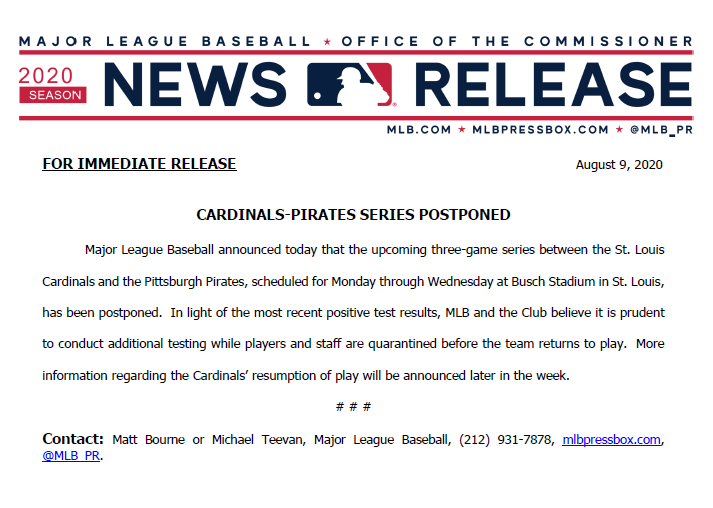 Brian Walton's take
This increases the Cardinals' consecutive total of scrubbed games to 13 and series to four. Of them, six contests/two series are yet to-be-rescheduled  – three games each with the Cubs and Bucs.
The team is now off until Thursday, August 13, when they are scheduled to play a make up twin-bill in Detroit before Friday's opener of a three-game weekend series against the White Sox in Chicago.
With no further changes, the Cardinals must make up 55 games in just 49 days. Given where the team is now health-wise, that seems an overly-aggressive plan.
Further, several reports indicate the Cardinals have another positive since Friday. That would certainly explain the Pirates series being bagged. It will increase their total of virus cases to 17.
Sunday update no. 4
Mozeliak met with the media via Zoom on Sunday evening. A summary of his remarks follow.
The new positive is Lane Thomas. Not really surprising since his roommate is Ryan Helsley (another positive). Everyone else tested negative in Saturday results received today. Current total is 10 players and seven staff. Thomas' had been inconclusive prior. No inconclusives currently.
Will continue to test daily and quarantine. Allow for a few days before knowing the plan. Learning as we go. Frustrating to all.  Do not want to speculate what happens after Pittsburgh series.
Reason for PIT series postponed is the new positive confirmed and multiple positive tests since leaving Milwaukee. Don't know the amount of time to be separated to stop the spread.
Acknowledged that CDC 14-day quarantine came up in discussions. Admitted they probably wouldn't be here if that had been followed (but he quickly said it was not fair to be second guessing). Incubation period not defined at 48 hours or less.
Have not heard conversations at this point about stopping the Cardinals season.
Not sure but thinks the first positive group in Milwaukee had their first (re)tests today. (One of Molina's brothers tweeted that Yadi was among them.)
Re: prior plan to have all-negative tests two days in a row before resuming – will be more cautious because of recent positives.
The two with more difficult symptoms went to the hospital to be checked. Now are at home. Was one player and one staff member. We are dealing with some people who are sick. We have friends and colleagues not doing well with this. It is real. People are sick. It is scary because they don't know what the next day will bring for them.
Can't have too many stops and starts or it will affect everyone mentally. Have to make sure this time. Can't have repeat.
Negative-tested players cannot assemble and work out because they don't know if the players are carriers. Don't know incubation time and amount of contact needed for it to be spread. Knows masks and distancing will help, but in contact tracing, that detail may not always be known. Want to ensure that the group that has been negative stays negative.
There was no scenario that made sense for them to try to play any of the three Pittsburgh games. This has not affected another team and family members. Taking conservative approach with focus on tomorrow and next day.
Communicating with players via Teamworks app. Telling them to not go out, don't leave home. Distance from family. Only exception is to drive to the ballpark for daily drive-through testing. Process is effective and efficient.
Monday will be a quiet day. Will not be cleared to get on field. Need good Sunday and Monday tests (results Monday and Tuesday) and from there, will see about the rest of the week. Will meet with media again sometime Tuesday.
Other teams really nice. Know it is not fun. All well-wishing.
Thought about KK (Korean LHP Kwang-Hyun Kim). Our country has mishandled the response, his country handled it well. He could be playing there. Instead he has been stranded here six months and hasn't seen his family. Doesn't speak the language. Feels sad for him.
Asked if missing 13 games means they cannot complete 60 – Would be purely speculating. Math is tricky. Guessing not helpful.
On idea of 40-man roster accommodations – I will ask for any help when the time comes. With 10 players out, might get a couple back (by the time the team is allowed to re-start). Day-by-day.
---
Exclusive for members of The Cardinal Nation
Cardinals Add Pitching Duo to Backfill Alternate Training Site
---
Not yet a member?
Join The Cardinal Nation for the most comprehensive coverage of the St. Louis Cardinals from the majors through the entire minor league system.
Brian Walton can be reached via email at brian@thecardinalnation.com or for fastest turnaround, pose your questions on The Cardinal Nation's members-only forum. Follow Brian on Twitter.
© 2020 The Cardinal Nation, thecardinalnation.com. All rights reserved. This material may not be published, broadcast, rewritten or redistributed.